Start from this post I will be your temporary tour guide. Which I will be introduce some of the common place at Limbang. Limbang is one of the divisions from Sarawak state.
Most of the people here are Chinese, Malay, and Bumiputera people. For Chinese there is "Hock Kian", "Fook Chow", "Hack Ka", and other dialect.
I am "Hack Ka", but since I grown up in a multi language environment so I also know how to speak "Hock Kian", and a little bit of "Fook Chow".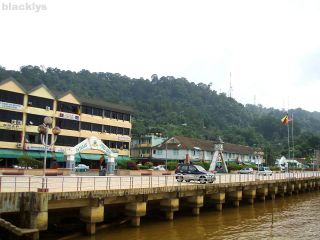 Well, the first place that I going to bring you around is the Limbang Water Front. Before the waterfront been renovated, it is just a place for hawker stalls. After that the Limbang district officer had decided to make this a clean and beautiful place for people to hang out. So they have setup another place for the hawkers to hawks.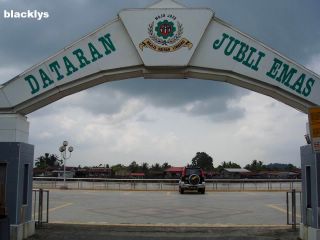 After that when all of the hawkers move their stall to the new place, the Limbang district office hire contractor to renovate the place.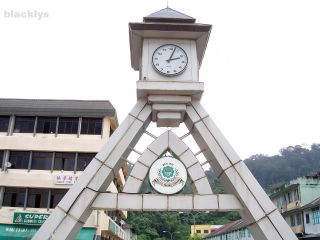 So they put on beautiful tiles, to make it look tidy. And build a big clock to remind little teenager what time it is and don't hang out too late, go home early cause tomorrow still need to go to school.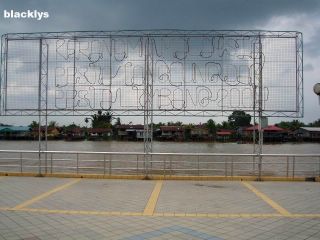 Question:
Can you read what is the word on that electric signboard?
Answer:
Kerana Mu Malaysia, Pesta Tang Lung, Pesta Limbang 2004.
(It took me a while to guess what the words is).
It says that
"For you Malaysia, Lantern festival, Limbang Town Festival 2004"
. Yeah, i remember my mom telling me that there is a lentern festival held at Limbang here. Well, the district officer sure are "hardworking" cause from last year until now, they haven't take down the electric signboard.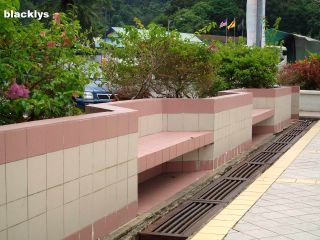 When Saturday night, I usually will hang out with my buddies at here. Chit-chatting, eating Kua Chi (sunflower seed), whistle at pretty girls, and etc.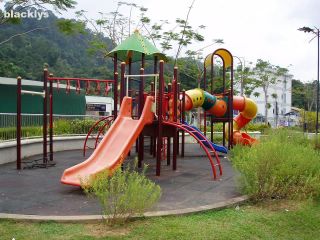 This is a new playground at my time in the 90's this playground still not exist yet.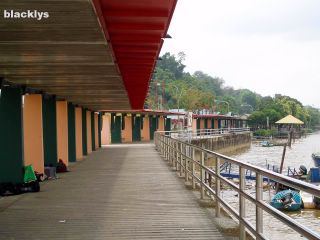 This is a place for the fish lover, so when on the weekend you can see some people finish at here.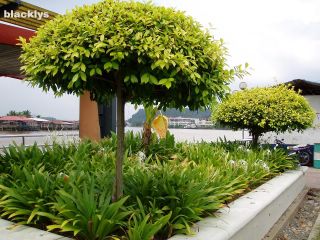 Green plants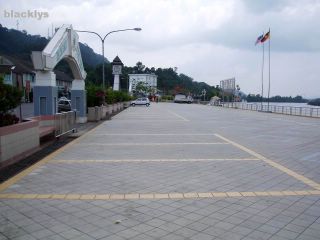 The waterfront is not very big thought, but since Limbang is not a very big place so this waterfront would fit just great in the heart of Limbang town :)
Opposite the river is the resident of the fisherman. So they all own a boat, and they will have to use their boat to cross the Limbang River, and then reach the town area.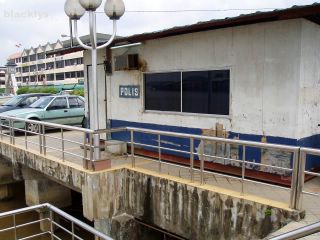 There is also a small polis station situated at the end of the waterfront. The police office here will ensure there is no violence happens at waterfront here.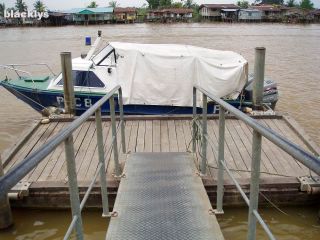 The police boat.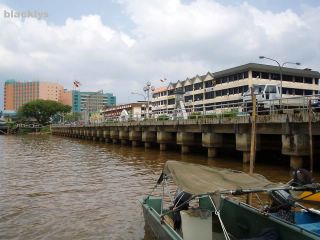 I took this shot on the jetty near the police station.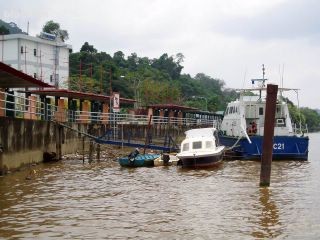 Bigger Police boat.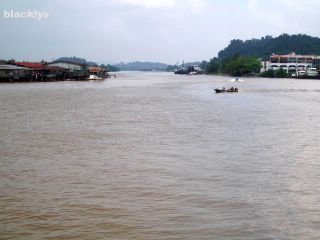 The Limbang river. The Limbang River had taken away many lives as well. I still remember there is one time my father's friend daughters, they follow their friends to the other site of the river but unfortunately they fall off from the boat there was three or four of them (I don't quite remember) but one of them drown, the mother cannot believe that her daughter had drown and cried badly.

They said sometime the dead people (die from Limbang River) wanted to find a replacement, so they will hunt for the unfortunate one. So have to be careful when crossing the river. Well, I hope if one of the Limbang district officers would read my blog. I purpose you build a bridge to link the town and the fisherman resident together *hehehe*